Press Room
Keep yourself updated with the latest developments at Astrum. Get the latest press releases and read what's kept us in the news.
Ashwani Singla recognized by Reputation Today
Release |
September 14, 2017
Amongst "100 Most Important Professionals" in the Indian Public Relations & Corporate Communications
Ashwani Singla, Founding Managing Partner, Astrum has been featured in the Reputation Today, 2017 listing of the "100 most important professionals in the Indian Public Relations & Corporate Communications".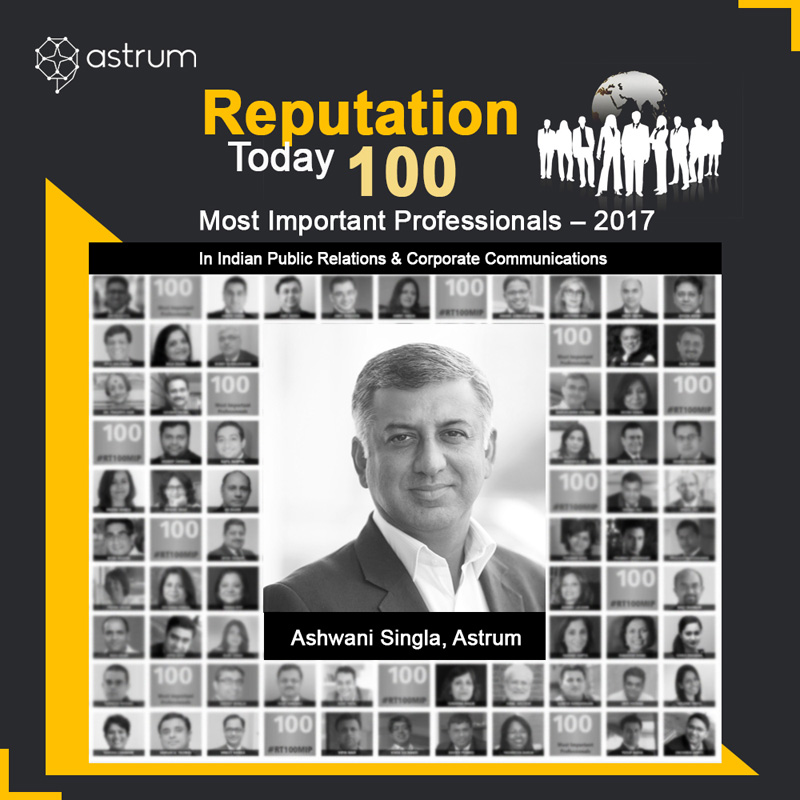 Reputation Today is India's premier publication for Public Relations and Corporate Communications professionals. Says Ashwani, "This recognition would not have been possible but for the faith of our clients in our science based reputation management and the adoption of data and insight driven communication by every member of Team Astrum."
Ashwani, is credited with establishing some of the most cutting-edge industry practices in India. He has previously featured in the Campaign India Magazine's 'A list' and Agency FAQ's listings of the most influential communication professionals in India. Earlier this year he was inducted by the Public Relations Council of India into their Hall-of-Fame.
In his distinguished career of over two decades he has built successful firm Like Genesis Burson-Marsteller and Penn Schoen Berland as their CEO and Asia MD respectively. Renowned for his strategic thinking, he has been a trusted advisor and strategist for both the C-Suite & Political Leaders. He has advised both Indian and Multinational corporations across a range of sectors. Since the 2014 General Election in India, he has been the election campaign strategist for the Bhartiya Janata Party (BJP) and has been involved in several successful domestic and international election campaigns.

Join the conversation and share your views with us, nothing would please us more than to have you share your point of view.
Read More
The wisdom of veterans and the dynamism of gennext; the scientific mind and the creative soul; the copybook and the innovator – our leadership team has the right mix of it all.
Read More