Press Room
Keep yourself updated with the latest developments at Astrum. Get the latest press releases and read what's kept us in the news.
Measurement will continue to be the Holy Grail of PR
Gurgaon, In an integrated world, public relations has to move beyond the image of a mere provider of press coverage to a counsellor who can decipher current public opinion to the organization; use that insight to encode persuasive messaging to the public through focused engagement of publics across earned, owned and paid platforms in an effective and ethical manner.
Measurement has always been the holy grail of public relations and will remain so, unless it moves to science-based communication, that is, driven by insights and backed by measurement that can demonstrate shifts in the public acceptance.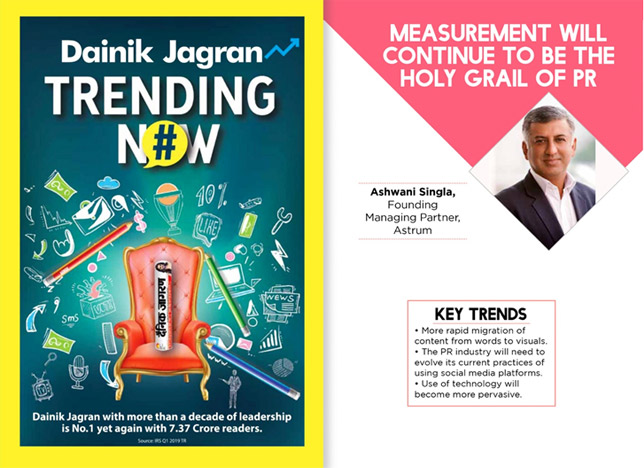 Purpose of machine learning and artificial intelligence is to generate unique insights that help organisations become more relevant and compelling to their consumers, besides making them more agile and responsive to fast changing needs. Doing this well is the core of good reputation. Besides, artificial intelligence and machine learning driven insights can make engagement more targeted and communication more persuasive.
Reputation continues to take centre stage and, therefore,the prognosis for the industry continues to be positive. However, the industry will continue to struggle to move up the value chain to provide high value consulting.
Key trends in PR business in 2019
As the world continues to consume more videos and pictures, the industry can expect even more rapid migration of content from words to visuals
As governments fight fake news and introduce stricter regulation, the industry will need to evolve its current practices of using social media platforms
Use of technology will become more pervasive to 'be in the know' to spot and mitigate potential threats to reputation

Join the conversation and share your views with us, nothing would please us more than to have you share your point of view.
Read More
The wisdom of veterans and the dynamism of gennext; the scientific mind and the creative soul; the copybook and the innovator – our leadership team has the right mix of it all.
Read More